Nature calls to us in countless ways, whether it's the twinkling stars above, rustling trees, or the soothing breeze. It's no wonder many of us seek the great outdoors to escape the monotony of everyday life. Among the many ways to connect with nature, camping reigns supreme, providing an opportunity to rest under the stars and bask in the beauty of our planet.
The versatility of camping allows for a variety of experiences, whether it's pitching a tent in a remote forest, setting up in a designated campground, or indulging in glamping with an RV or camper van.
But the key to a memorable camping trip lies in the location. With countless places to choose from, spanning from majestic mountains to tranquil forests, sunny beaches, and arid deserts, finding the perfect campsite is crucial.
So, to help you plan your next adventure, here are some of the best campsites worth visiting:
Yosemite National Park

The Yosemite National Park is an absolute must visit if you find yourself in California. Adorned with gigantic sequoia trees, beautiful granite cliffs, waterfalls, and much more, this legendary park should definitely be on the top of your list of campsites to visit.
The park offers many campgrounds, near popular hiking trails and landmarks, and they even have a ski lodge! Whether you're a light camper with just a sleeping bag, or a glamper with a fully kitted out camper van, Yosemite has accommodations for every type of visitor. They also offer hotels and lodges for those less outdoorsy types, too.
Camping isn't the only thing you can do at Yosemite! Aside from sightseeing popular landmarks like Half Dome and El Capitan, the park offers a variety of activities, from guided hikes to mountain climbing, fishing, golfing, even skiing in the winter! Be sure to visit their restaurants too!
No matter where you decide to stay the night (or two!), you're sure to have a great time at Yosemite park.
Banff National Park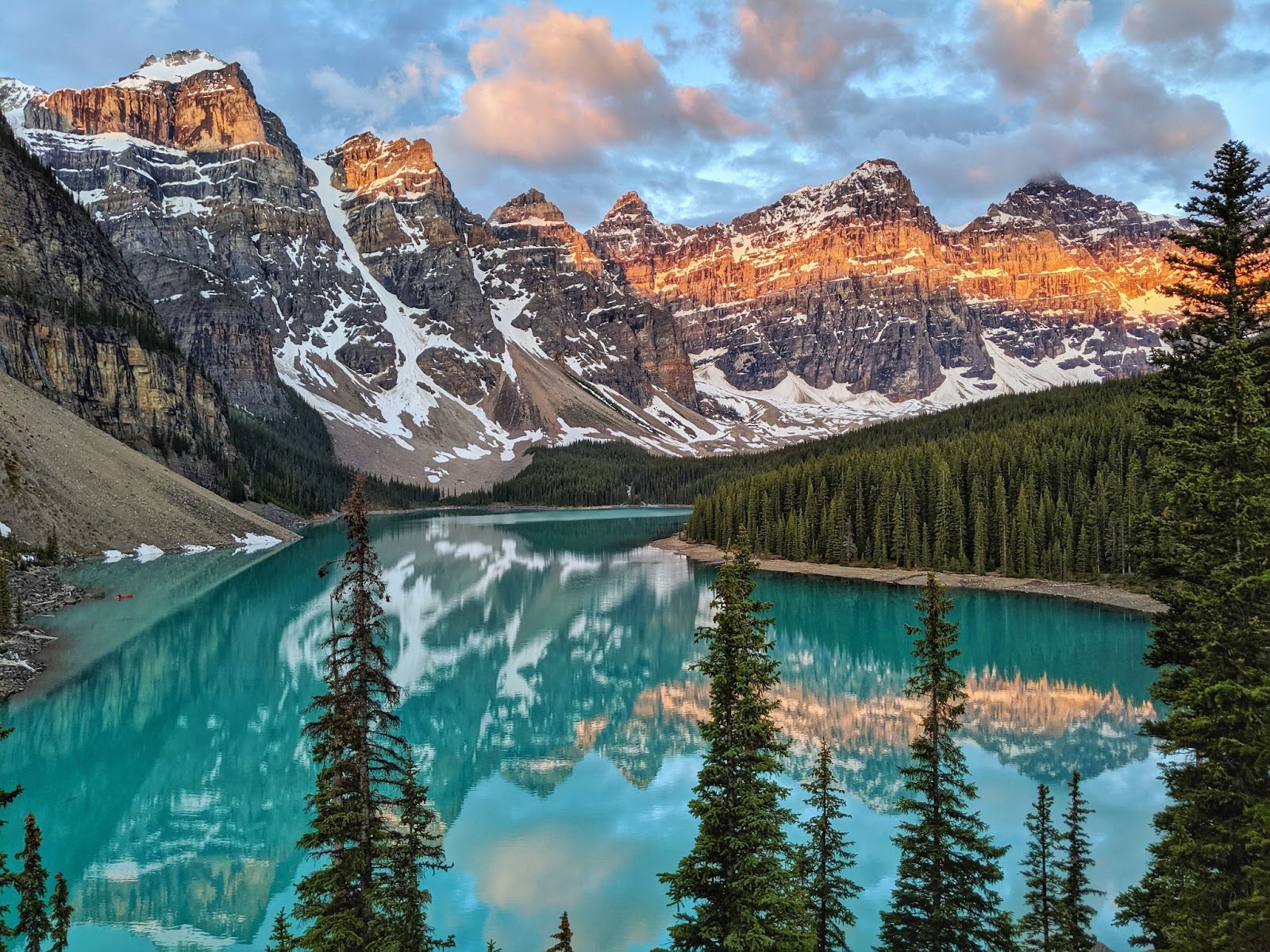 North of the border, in Alberta's rocky mountains, is Canada's own Banff National Park. Lauded for being Canada's oldest national park, the former Rocky Mountains Park is full of wonderful sights and sounds that's sure to bring you closer to nature. The over six thousand square kilometers of Banff offers breathtaking views of lakes, mountains, ice fields, glaciers, and lush forests to take in.
Many of the available campgrounds are near some iconic landmarks such as Two Jack Lake and tunnel mountain, and of course there are several kinds of accommodation available at the park to suit your needs, whether you have a camper van or are simply backpacking, there's sure to be something for everyone. Hotels near the park are also available should you need it.
Banff is also bike-friendly, so you can opt to leave your car at the parking lot and bike all throughout the park. Just know that e-bikes are generally not allowed on the park premises (aside from roadways), so be sure to check in with the park administration beforehand.
As for activities, Banff National Park has it all! To name a few, you can go hiking, biking, fishing, mountain climbing, swimming, and boating! In the winter you can go ice skating on the frozen lakes, and even do some cross-country skiing on some trails. The park is also pet friendly, so you can go on a vacation with your beloved furry friends!
We recommend visiting the park in the months of May, June, and September, as there tend to be less crowds during those months, plus the weather is a lot warmer. However if you're interested in seeing the snow, March is probably the best time to book a reservation.
Speaking of, you can make reservations via the Parks Canada website, which is very convenient for planning out your trip. The site also includes a plethora of information regarding the Park as well as a bunch of safety tips that'll keep you safe while you enjoy the great outdoors. It's also probably a good idea to buy your park pass online ahead of time, as there might be a long line at the park entrance.
Getting to Banff is luckily quite easy, as there are buses that go straight from Calgary to Banff! And, if trains are your thing, the Rocky Mountaineer train goes straight to Banff from around April to October, so you can take in the scenery before you even get to the park!
Mount Fuji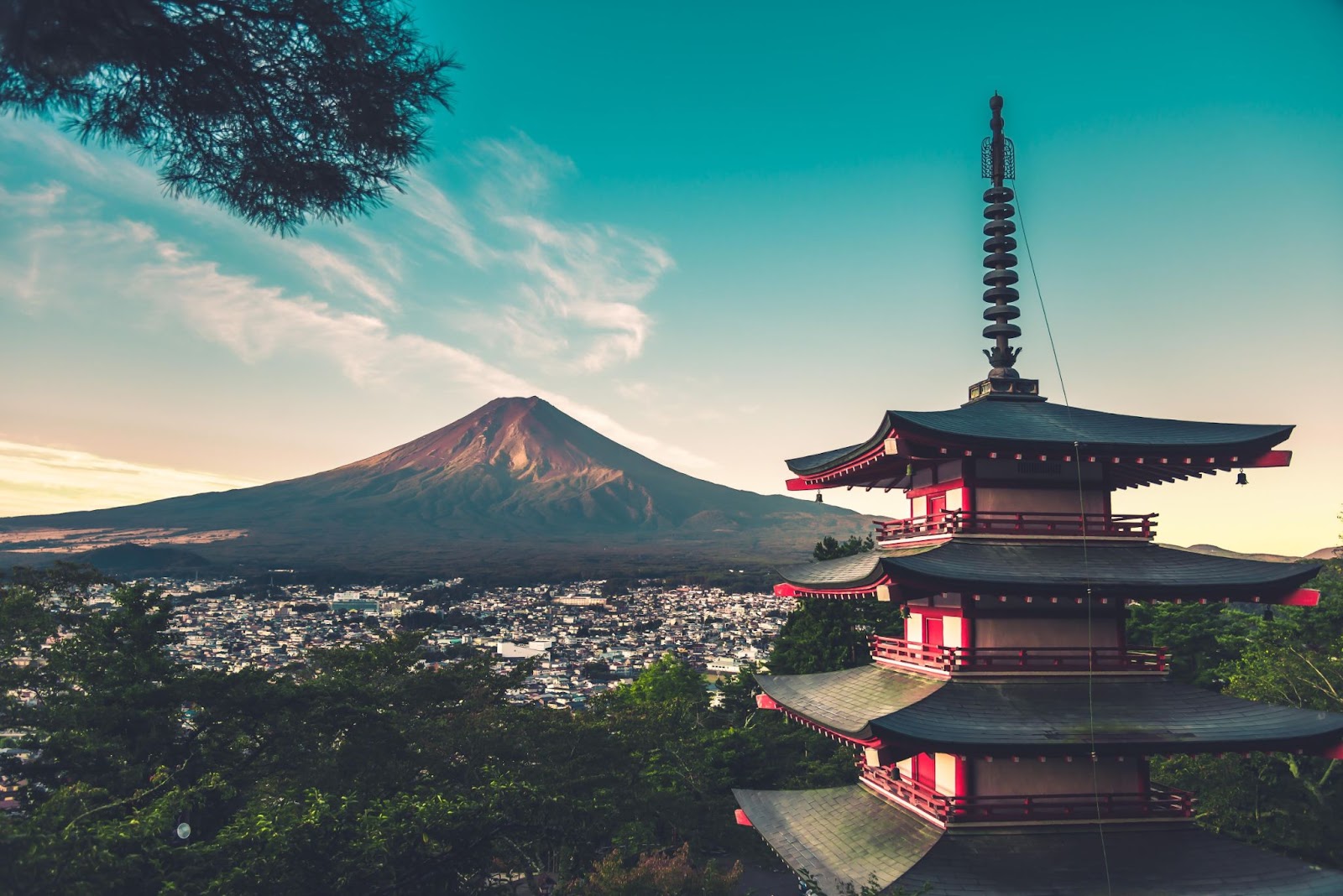 Have you ever seen those wonderful photos of Japan's Mount Fuji, where the mountain is just close enough to be perfectly in frame? It's extremely likely that most of, if not all of those photos, were taken at one of the many campsites near or overlooking the iconic Mount Fuji. 
You may be wondering, why around? Why not camp on the mountain? Well you see, Mount Fuji is a UNESCO World Heritage Site, and it's also considered sacred by the Japanese, so in the interest of preserving the natural beauty and environment of the mountain, camping on the slopes of the mountain are generally forbidden. Not to mention, the slopes of the mountain can be quite dangerous, so it's generally a bad idea to camp on the mountain anyway. Besides, Mount Fuji looks quite good from afar.
Now, trust us when we say there are a LOT of different campsites that overlook Mount Fuji, but fret not, as we'll talk about some of the best campsites you should consider for that peak (heh) Mount Fuji experience.
First off is Kouan Camping Ground, popularized by the cozy camping anime Yuru Camp, this lakeside campsite probably has the best view of Mount Fuji ever. It's such a good view, in fact, that this specific view of the mountain from Lake Motosu is on the thousand yen bill! They offer tent space for solo campers, cabins for large groups, and even hostels if you don't fancy bringing your own tent. Keep in mind that the bus from Kawaguchiko Station to Kouan only runs once a day, so be sure to plan your day ahead of time, or rent a car (or a camper van!).
If camping near water isn't your thing, then you should check out Fumotoppara Campsite. This spacious grassland is commonly dotted with cars and tents, full of people wanting to kick back and enjoy some good food and good company while admiring the beauty of nature. Of course if you aren't a tent person they also offer different sized accommodations from cottages to houses depending on your group size. The view of Mount Fuji is just as impressive here, and locals say that in the early mornings, the clouds atop of Mount Fuji make it look like the mountain is wearing a hat. That's definitely worth waking up early to see.
Now our last recommendation for your Mount Fuji camping experience is something a little different. PICA Fujiyama offers your usual accommodations like tent sites and cottages, but what makes this campsite stand apart are their unique dome tents that you can stay the night in. You can have your comfy hotel bed AND sleep under the stars, isn't that neat! And don't forget about your must-have travel essentials to make your camping adventure safer and more enjoyable.
Torres del Paine National Park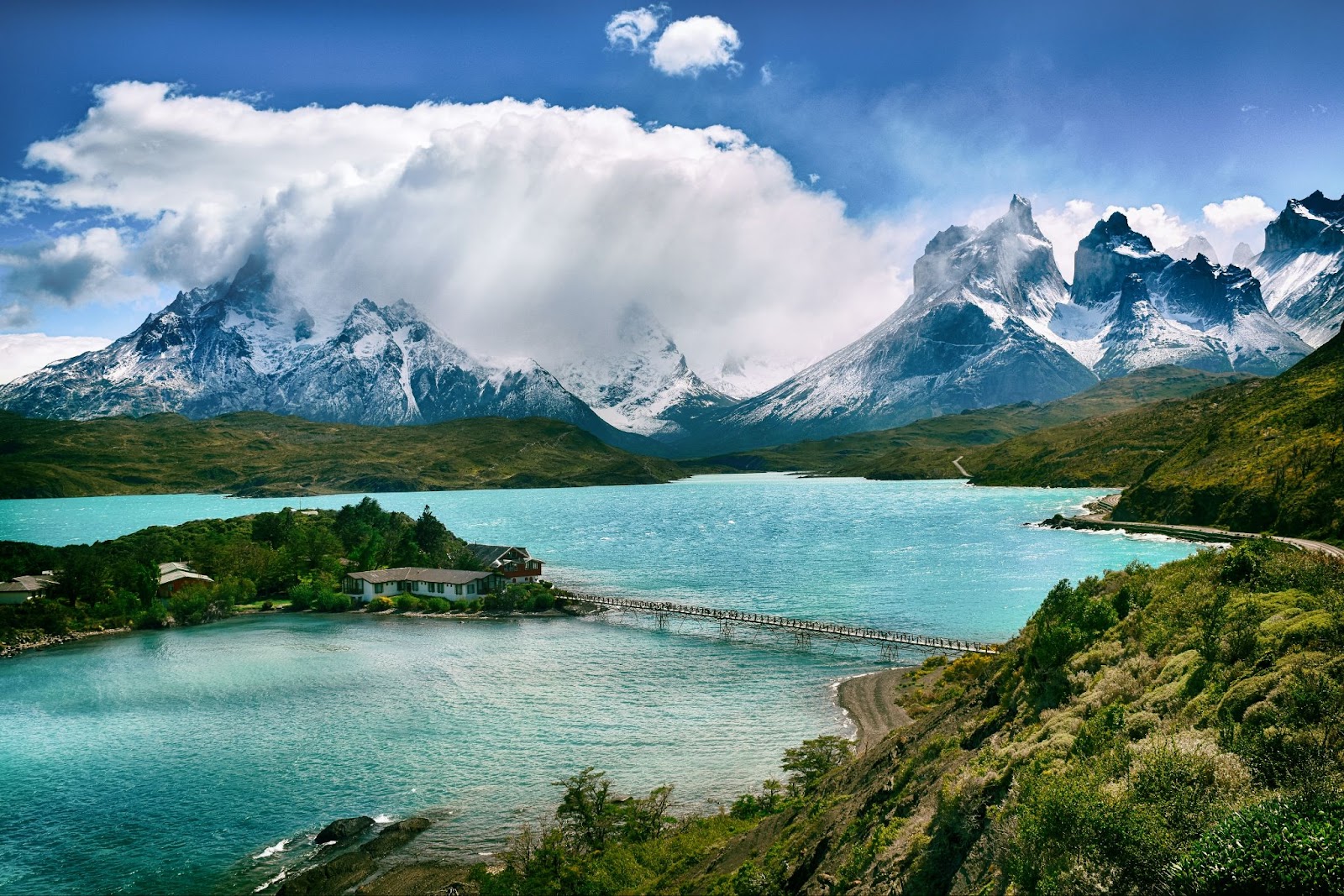 Patagonia is a vast, beautiful region in South America, governed by both Argentina and Chile. It's a very popular place for campers, hikers, trekkers, and all other kinds of adventurers, and for good reason: it's a gorgeous region full of diverse landscapes and wildlife. It's full of culture and history just waiting to be discovered, and given its vastness and sheer variety in landscapes, it is no surprise that wild camping in the Patagonia region is very popular.
However, there's no denying that the security and facilities provided by a campground or a managed park really gives you that extra peace of mind that'll definitely help improve your vacation experience.
Which is why we recommend you check out Torres del Paine National Park, located in the Chile side of Patagonia, the Park offers several accommodations for visitors that caters to anyone's level of adventure, and, you can also opt to wild camp within the park's premises if you prefer being closer to nature.
Torres Del Paine features many natural landmarks such as the three mountains of Torre Sur, Torre Central, and Terra Norte, the beautiful waters of Sarmiento Lake, and the roaring waterfall that is Salto Grande. If you want a more culturally enriching experience, you can also pay a visit to the nearby village of Cerro Castillo, with its famous slow cooked barbecue lamb, or the "pueblito" Serrano village that offers horse riding and fishing.
If you do decide to put Torres del Paine on your itinerary, do note that they charge an entrance fee that varies in price depending on the season. October to April is the high season, and an adult entrance fee is about 21,000 Chilean Pesos, while the low season in May to September usually costs about half as much. Remember to check out their website ahead of time!
Kruger National Park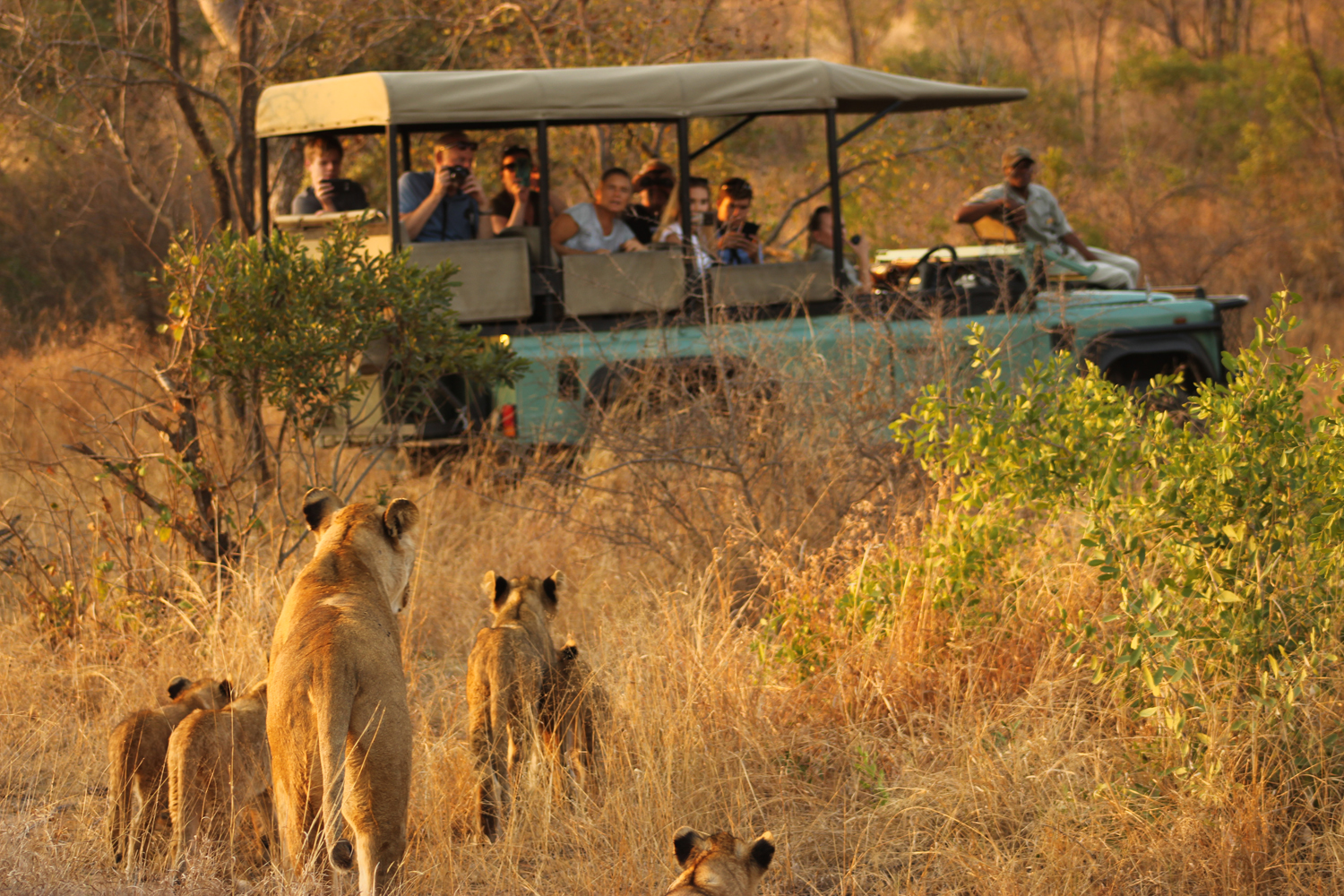 If you prefer a little something different for your camp trips, then it's definitely worth paying a visit to South Africa and staying at Kruger National Park.
This reserve is home to thousands of native African wildlife, all of them allowed to thrive within the pristine wilderness of the park.
Kruger National Park offers many packages for tourists, from classic safari tours to romantic honeymoon stays, the park offers accommodations like lodges and luxury tents with breathtaking views and even sometimes wildlife will come around to take a peek while you have lunch! Guided tours and safaris will allow you to learn about the local flora and fauna all while you take in the wonderful scenery of the African wild.
Kruger National Park is easily accessible, as it is driveable via road or air if you fly in from Johannesburg or Cape Town.
You can opt to purchase just accommodations and do some exploring yourself, but we highly recommend checking out Kruger National Park's vacation packages, as most of them include a full itinerary spanning several days! You can choose what kind of vacation you want, whether you want to get up and close with the animals on a safari, or sit back in a beautiful lodge while watching the African sunset; be sure to check out their website for a full list of their accommodations and vacation packages.
Uluru-Kata Tjuta National Park
Located in the heart of the Australian outback, Uluru-Kata Tjuta is, as the name suggests, home to two of Australia's greatest natural landmarks: Uluru (AKA Ayers Rock) and Kata Tjuta (Mount Olga).
The Anagu, the traditional owners of the now Uluru-Kata Tjuta Park some 30,000 years ago, consider this land to be a sacred site, so efforts are being made to preserve the area and all of its historical and cultural heritage, thus, UNESCO has deemed the area a world heritage site since 1987. It's also good to know that the park has been given back to the Anagu people in 1985, and with collaboration with the Australian government, the park has worked to improve its experiences for visitors while still taking care to preserve the natural and cultural heritage in and around the iconic park.
Uluru-Kata Tjuta Park offers a multitude of activities to enrich its visitors, from walks around the wonderful landscape, to guided tours of historical and cultural sites, including viewing ancient Anagu rock art!
Probably the best reason to come to Uluru would be to visit the Cultural Center, where you can learn about Anagu culture from the Anagu people themselves! The entire Cultural Center Building is even made from locally made mud bricks; a wonderful collaboration between park staff and the Anagu people.
As Uluru-Kata Tjuta park is both a sacred ground and a UNESCO world heritage site, camping on the grounds of the park isn't allowed, but worry not campers! Ayers Rock Resort at Yulara is not too far from Ulara-Kata Tjuta Park, and features Cabins and Hotels, as well as powered and unpowered campgrounds for campers of all kinds, including camper vans!
Lodging aside, visitors are required to buy a park pass, and they start at about 38 AUD for a 3-day pass, which is not a bad deal considering you're helping with cultural preservation efforts AND you get to explore for three whole days! The park also offers annual passes, and you can opt to buy your passes in advance on the park website.
These are just some of the many, many wonderful camps and parks you can visit around the world. Whether you're a backpacker, a campervan person, or just a casual traveler that loves seeing the beauty of the outdoors, these camp spots are sure to give you that (literal) breath of fresh air that let you wind down, relax, and reconnect with nature.
Always remember to check park websites or call beforehand! Most parks have strict guidelines that you should know of, so it'd be best to go camping prepared.
Happy camping!