If you've been to Taiwan, you would know that this tiny little island country DOES. NOT. STOP. EATING. From day to night, you'll find Taiwan street food to fill your tummy from just about every corner – a restaurant, convenience store, or the night markets.

And Taiwan's night markets are legendary. There's more than one, so you can take your pick for every night of your trip, and you'll probably find something new to eat at every one of them. But for this article, we'll be listing down some of the most popular and yummy – for the most part – Taiwanese street food you must try.

SCALLION PANCAKE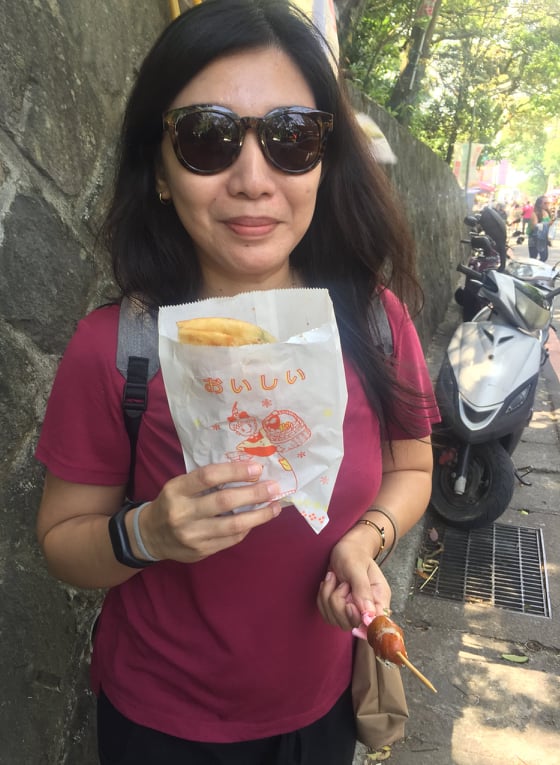 First up is scallion pancake. These are crispy, pan-fried pancakes made with spring onions, egg, flour, and spices. Choose to eat it plain with a spiced vinegar sauce, or choose your filling from ham, cheese, basil, egg corn, kimchi, and more. I like it plain with the spiced vinegar, crispy, light, and totally satisfying.

CANDIED FRUITS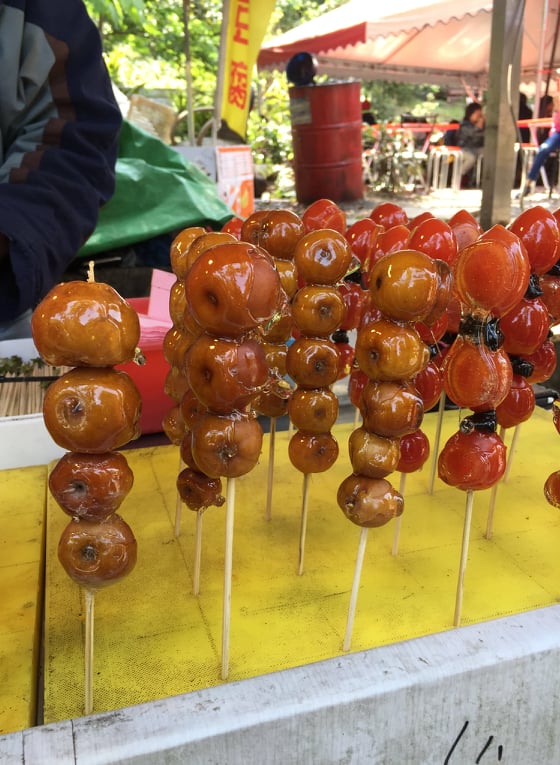 These traditional Chinese candy fruit skewers are typically made with hawthorn, which is like small apples that are tart and sweet, coated in brittle caramel. In Taiwan, they're sold in night markets and stalls in popular tourist sites like Shifen and Maokong Tea Town. Aside from hawthorn, these candied fruits are also made with strawberries, cherry tomatoes, grapes, and whatever fruit you can think of. They're sweet, tart, crunchy, and addicting.

SAUSAGE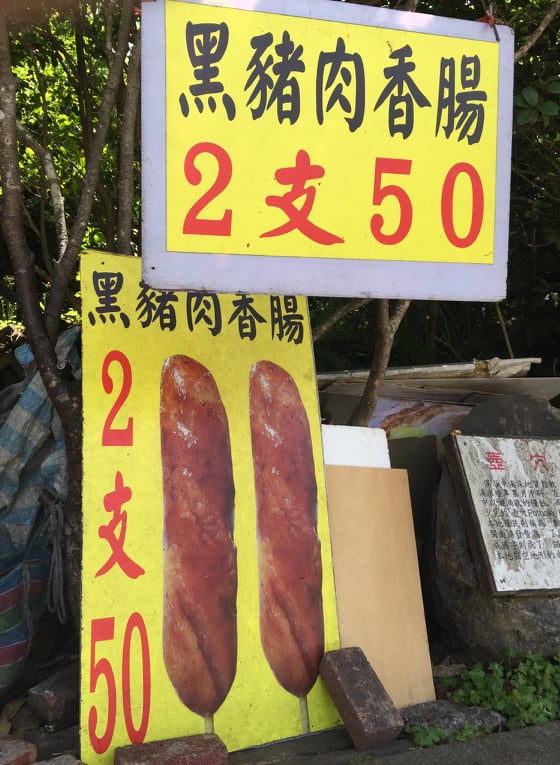 A staple at night markets in Taiwan, these pork sausages are grilled and often come with garlic and green onions. If you go to the Feng Jia Night Market, you'll be able to get these sweet and savory sausages wrapped in glutinous rice with lettuce, vegetables, and garlic. A totally filling meal after all the shopping you'd be doing at these night markets.

FRIED QUAIL EGGS
Similar to the Philippines' kwek-kwek, or batter-coated fried quail eggs, Taiwan's version features the egg pan-fried in a custom-made pan similar to a takoyaki pan. The eggs are skewered to about 5-10 eggs per order and can be topped with pepper, dried seaweed, spring onions, or sweet soy sauce.

XIAO LONG BAO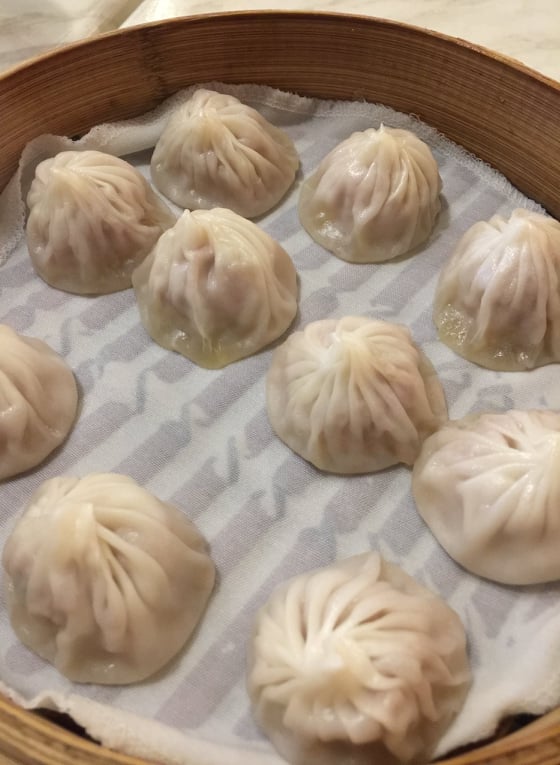 These hearty and delicious steamed dumplings originated in Shanghai but were popularized by Din Tai Fung, Taiwan's Michelin-starred and most popular restaurant. Xiao Long Bao is a soupy dumpling filled with pork and steamed. This process of steaming produces broth that is trapped inside the dumpling wrapper. Normally eaten with a dipping sauce made of soy-vinegar mixed with fresh ginger strings, Xiao Long Bao gives you a juicy bite that will have you wanting more. It's generally on top of any traveler's must-try when in Taiwan.

STINKY TOFU
Another popular item in the Taiwanese Street Food scene is Stinky Tofu. Okay, for the most adventurous foodie, eating it might come across as a challenge. As the name implies, this delicacy is so smelly that it turns off most travelers. The smell is so strong you'd have no trouble finding it among a sea of food stalls in a night market. However, many of those who tried it swear that it is surprisingly delicious! If you can get past the smell of these deep-fried tofu cubes, then I say, go for it! You might surprise yourself.

There are many more Taiwan street foods that you should look out for at the night markets. Make sure that you don't stuff yourself for the rest of the day so you'll have room in your tummy for all these wonderful and tasty treats. Happy eating!