Most travelers have already heard of balut, but we know that there is more to the Philippines' food scene than guiltlessly consuming a tasty fertilized duck egg. To know what else to taste during your vacation in the "Pearl of the Orient Seas," go over this Filipino food list of the most interesting local snacks and goodies you can find either in a pasalubong center or along the streets.
1. Taho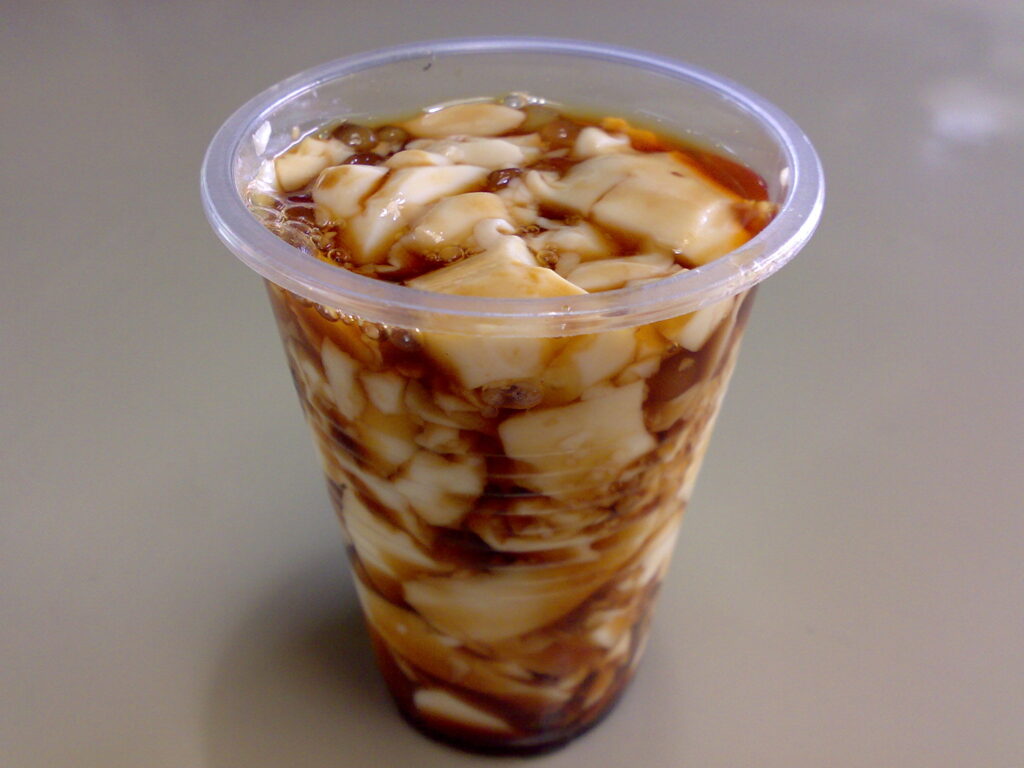 Silken tofu is a common Asian dessert base. Its Philippine street food version, taho, is served with a syrup made with brown sugar and vanilla, topped with mini tapioca pearls. Vendors of this warm, sweet treat in a cup walk the streets of Manila with two aluminum buckets hanging on either side of a pole, usually on early mornings.
2. Kwek-kwek and Tokneneng
Basically, these are egg tempuras made with orange batter. The only difference is the type of egg used. Kwek-kwek, which probably got its name from a duck's quack, uses duck or chicken eggs. Tokneneng however, uses quail eggs, which are a lot smaller. These deep-fried snacks are best eaten with spiced vinegar.
3. Green Mangoes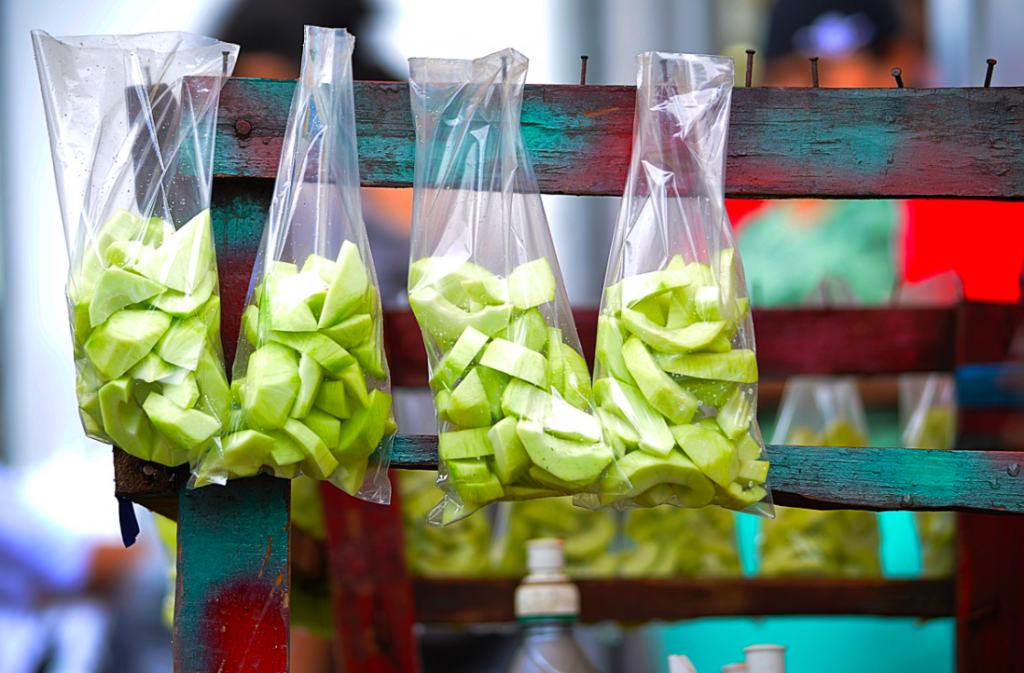 The sweetest mangoes come from the Philippines, but that doesn't mean Filipinos cannot make the most of unripe mangoes. Here, you'll find jars filled with skewered mango cheeks. The mere sight – or thought – of this sour goody is already mouth-tingling for most people. Some eat it with rock salt, but most people like topping it with a gallop of thick shrimp paste sautéed with brown sugar – a sinful mixture of sweet, sour, salty, and spicy.
4. Isaw
Isaw is probably the most famous Filipino street food in Manila. It is made by marinating and skewering pig or chicken intestines, then letting them sizzle and slightly char atop a grill. A serving of isaw with spiced vinegar is already satisfying, but some people fancy having it with a bottle of cold beer.
5. Betamax
Filipinos always find ways to never waste any part of an animal killed to be feasted on. This might be why betamax was invented. No, this is not the obsolete VCR technology. Betamax in the Philippines is made by skewering and grilling cubes of curdled pig or chicken blood. Some people easily get turned off by it, but most of those who decide to have a bite always go for a second stick.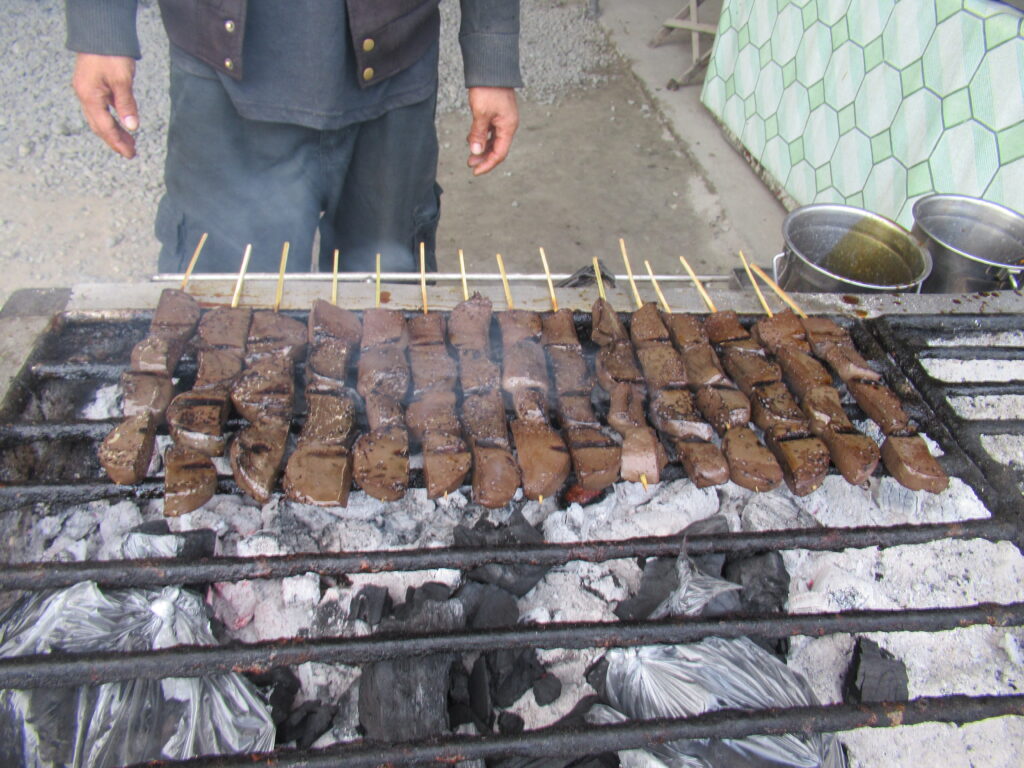 6. Adidas
Grilled chicken feet are popular in Asia, but having them here is probably best because you can savor them and enjoy the humor of their name at the same time. You might already be wondering how people eat Adidas, because it is all-skin-and-bones. But, it's almost addicting, the gelatinous texture is already enough to complement hearty conversations with friends.
7. Scramble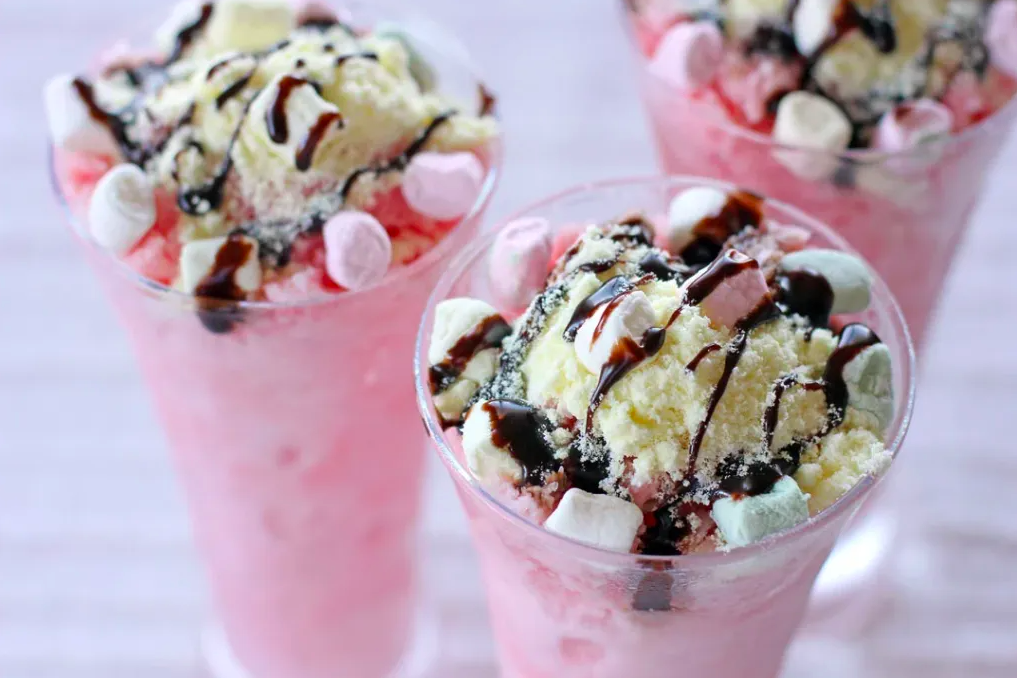 Any tropical country has its signature refreshing treat. In the Philippines, one example is scramble. This is flavored crushed ice with powdered milk, chocolate syrup, and an assortment of toppings. Now, scramble kiosks can be easily found not only along busy streets but also in malls.
8. Peanut Kisses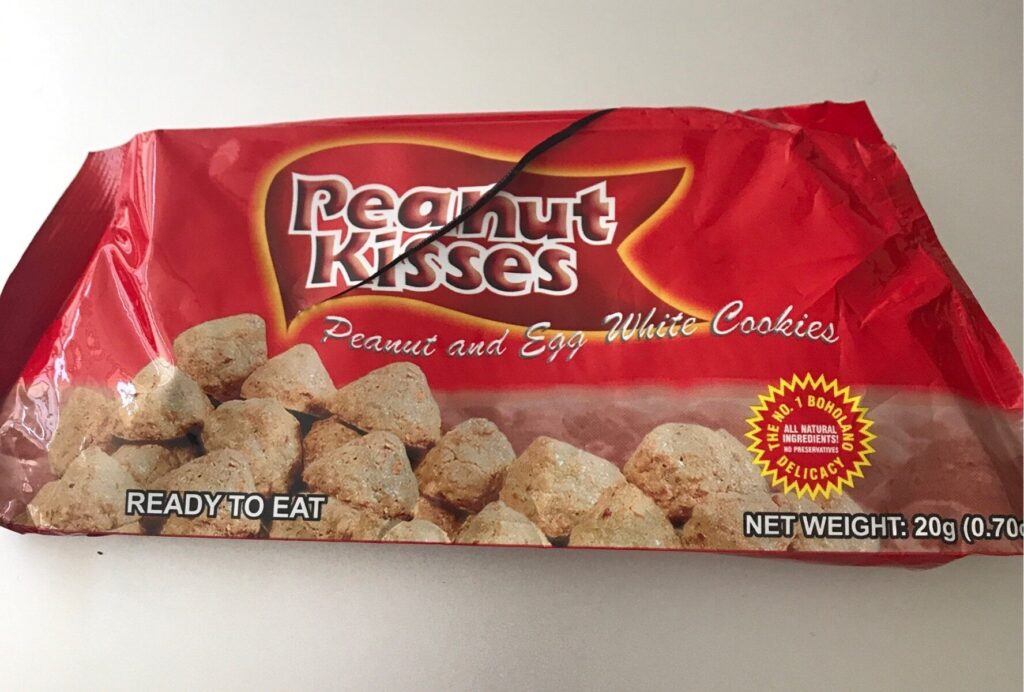 An ode to the world-famous Chocolate Hills in the province of Bohol, Peanut Kisses has long been a staple on every tourist's pasalubong list. These cookies are light, crisp, and shaped like miniature Chocolate Hills.
9. Ludy's Peanut Butter
Ludy's Peanut Butter is proof that Filipinos love sweet food. If you want a break from your usual Jif and Skippy, then you should try it. This smooth, sweet-blend spread is best eaten with warm bread, and it will also make your regular peanut butter and jelly sandwich more special.
10. Dalareich Tableya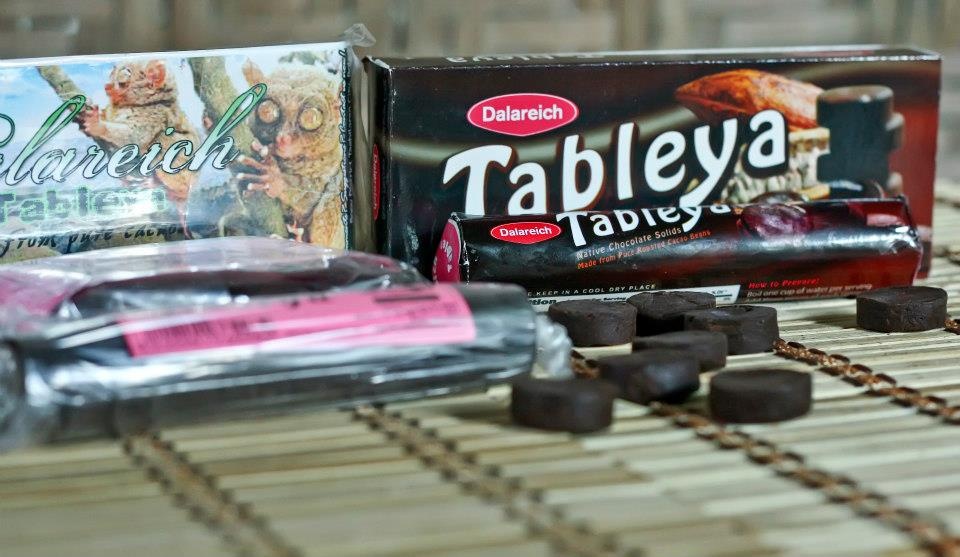 Unknown to many, Bohol also produces its cacao and has a local tablea manufacturer to boot in the form of Dalareich Tableya. Since 1994, the company has been manufacturing unsweetened chocolates or commonly known as "tableya/tablea" in the Philippines used for hot chocolate drinks and chocolate rice porridge.

11. Binagol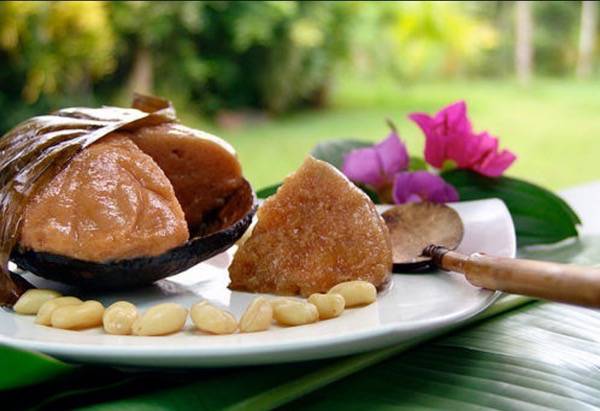 With the abundance of coconut trees in the whole country, many delicacies that use the plant's every part come out. Among these is binagol, coming from the local word bagol that means coconut shell. This particular delicacy in the Visayas uses the hard bowl of the fruit to hold a decadent mixture of taro root, yam, cassava, white and brown sugar, coconut milk, and condensed milk.

12. Pastillas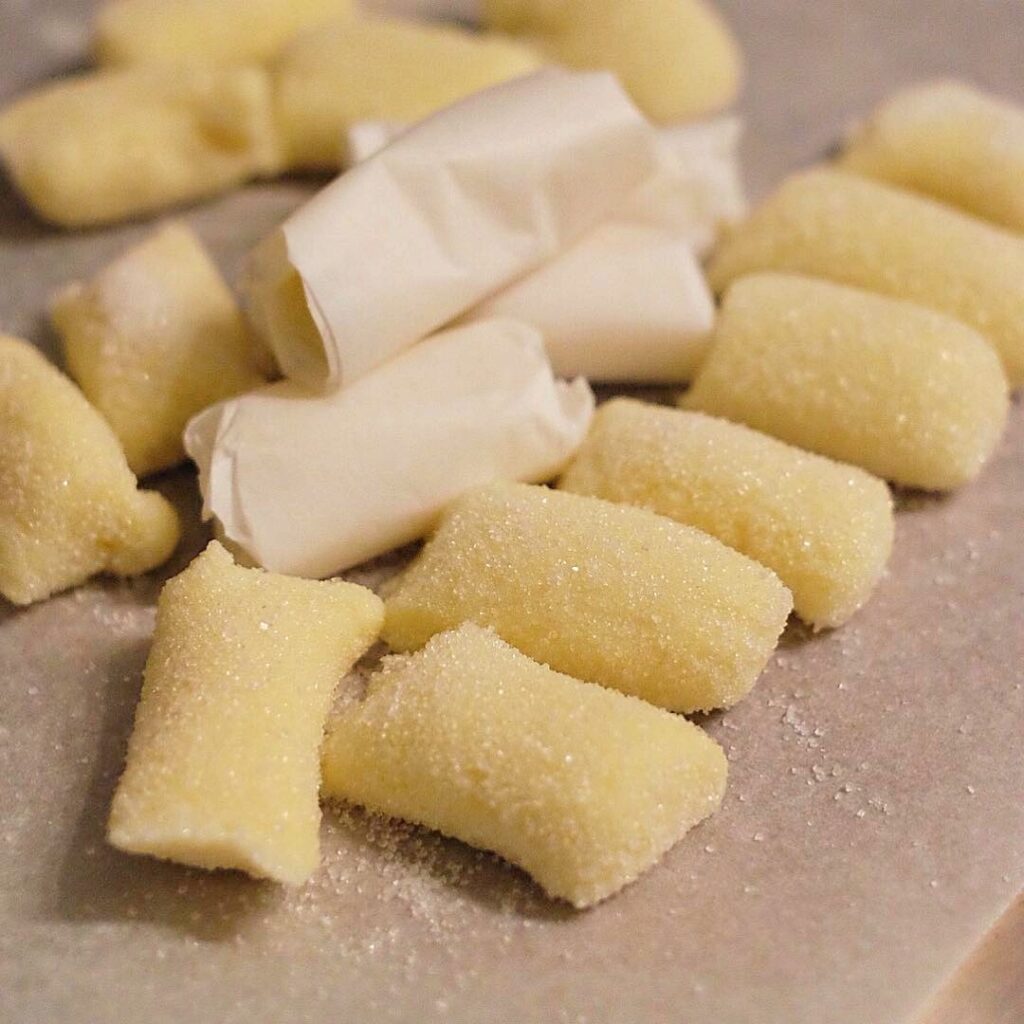 Aside from coconuts, dairy products are a popular ingredient for sweets in the Philippines. Pastillas is a widely known candy made by boiling milk and sugar until the mixture turns into a paste. Then, butter and powdered milk are thrown in, and the pan is taken off the heat. The paste is made into logs or strips, then rolled in white sugar. If this doesn't fully satisfy your craving for anything milky, I don't know what would.

13. Sagmani
Suman, steamed rice cakes wrapped in coconut leaves, is another countrywide staple, and sagmani is Tacloban City's best version of it. Instead of having plain sticky rice as base, it also uses shredded taro — something that adds more character to it. Other versions even add more stuff, such as coconut milk, margarine, peanuts, and sugar.

14. Uraro
Purchasing Oreos from a local supermarket shouldn't be your top choice when you're in the Philippines and craving some cookies. You should head out to the streets and grab yourself a pack of uraro. This favorite treat that crumbles at every bite is a delicate, powdery, buttery confection made with arrowroot flour.
These gastronomic goodies are among the reasons why tourists from around the world visit the Philippines. So the next time you book a trip to this part of the globe, make sure to bring this Filipino food list with you.