Bicol holds a myriad of natural wonders, and among these are the world-renowned perfect cone of the Mayon Volcano and the stunning islands of Caramoan in Camarines Sur. But beyond these stunning landscapes and seascapes, the region also offers a wild journey for your tastebuds through mouthwatering Bicol dishes that'll either make you ask for more of it, or an extra glass of water.

With a plethora of unique regional dishes, Filipino cuisine is indeed a treasure chest of rich flavors and bold taste. In this article, we take a closer look at one specific region known for its obsession with chili and creamy gata or coconut milk. Here are nine of the most famous dishes from the region which you shouldn't miss when you're in Bicol.

1. BICOL EXPRESS
Despite being the most popular dish in Bicol, this food was actually invented in Malate at a carinderia (eatery) near a railroad where the Bicol Express train traverses. The original recipe uses large chunks of pork as its main ingredient, stewed in creamy coconut milk with its flavor further enhanced by shrimp paste and large chilies.

But with a dish that carries the region's name, Bicolanos put their spin on it. Instead of pork being the star of the recipe, it becomes secondary to the main ingredient of the Bicol version–red hot chilies. Balaw or sauteed shrimp is also a preferred alternative to pork, resulting in an extra spicy, mildly salty, creamy dish perfectly paired with steamed rice.

2. LAING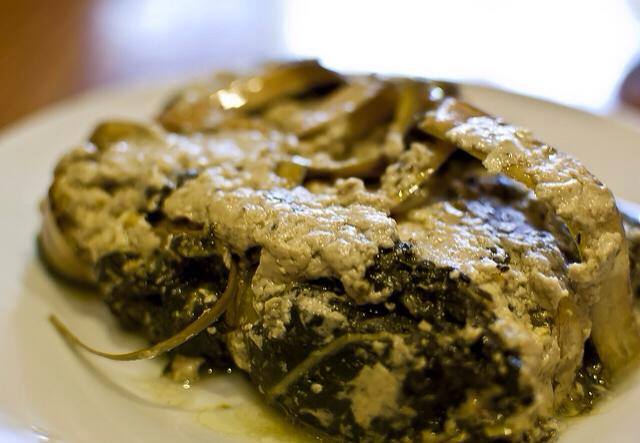 Another popular dish in the region is Laing. For foreigners, this dish might not look like something you'd want to taste at first glance, but its rich taste has had many diners wanting more of it. Yet another dish bathing in rich coconut milk and red chilies, this one uses shredded taro leaves as its main ingredient, cooked with garlic, ginger, and lemongrass.

While it looks like a simple dish, Laing is actually quite tricky to make as it can leave your tongue itching when prepared incorrectly. Best paired with steamed rice, this dish has become one of the staples in Bicolano households, especially during fiestas.

3. KINUNOT
This dish derives its name from the Bikol term "kinunot" or "kinisnit" which literally means to tear apart, describing how the ingredients are prepared. This dish combines malunggay (moringa) leaves and flaked stingray drowned in the ever-present thick coconut milk. Other versions of it also use baby shark meat, crabs, or tulingan (mackerel tuna).

While it is famous as a main dish served during lunches and dinners, Kinunot is also a popular pulutan, a type of appetizer specifically eaten as an accompaniment to alcoholic drinks.

4. SINANTOL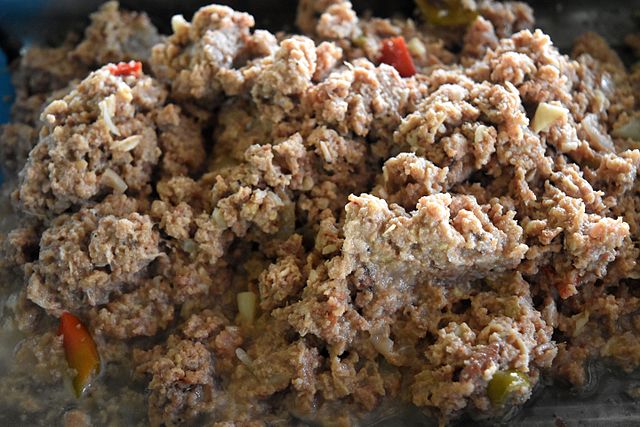 Sinantol is the perfect Bicol dish for those wanting an explosion of flavors in their mouth. With Santol (cotton fruit) being one of the most produced crops in the region, its fruit meat is shredded and is cooked with pork or fish, and of course, chilies and coconut milk.

A perfect blend of spicy, sour, salty, and creamy, this dish should be eaten with caution as it has proven to leave anyone who eats it craving for more and more cups of rice.

5. SILI ICE CREAM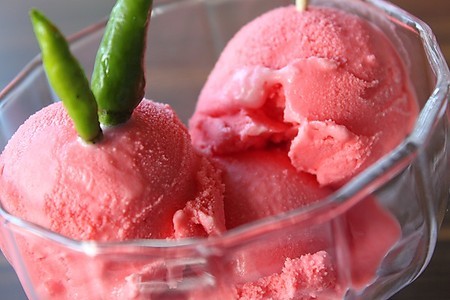 When people say Bicolanos have an obsession with chilies, they really mean it, and this item on the list is a testament to that. While most desserts are known to be just sweet, Bicolanos have to add that spicy factor into it.

This unique delicacy combines the sweet and creamy texture of the usual ice cream and accents it with a kick of spiciness in its aftertaste. Those who aren't fond of spicy foods won't have to worry too, as it is usually prepared with four levels of spiciness that cater to your tolerance.
These are just five of the many flavorful encounters you can have in Bicol. So when you get the chance to visit this stunning region, make sure to try at least one of the items on the list. I'm pretty sure you won't regret it. Which of these Bicol dishes would you like to try first?