Mindanao has long been an enigma for many travelers due to the negative reputation that it has garnered over the years. Safety concerns have overshadowed the beauty and diversity that the region offers, discouraging people from visiting the area. However, Mindanao tourism holds so many precious treasures that it would be a waste not to explore them because of misconceptions.
In this one-day itinerary in Basilan, we aim to encourage people to take the leap and explore the beauty of Mindanao. Join us as we discover the hidden gems of Basilan, including the stunning Lampinigan Island, and experience the warmth and hospitality of its people.
ABOUT MINDANAO AND BASILAN
Mindanao is the second-largest island group in the Philippines and is known for its diverse cultural heritage, stunning natural landscapes, and vibrant cities. However, due to security concerns in some areas of the island, it has gained a reputation for being dangerous, which has deterred many tourists from visiting.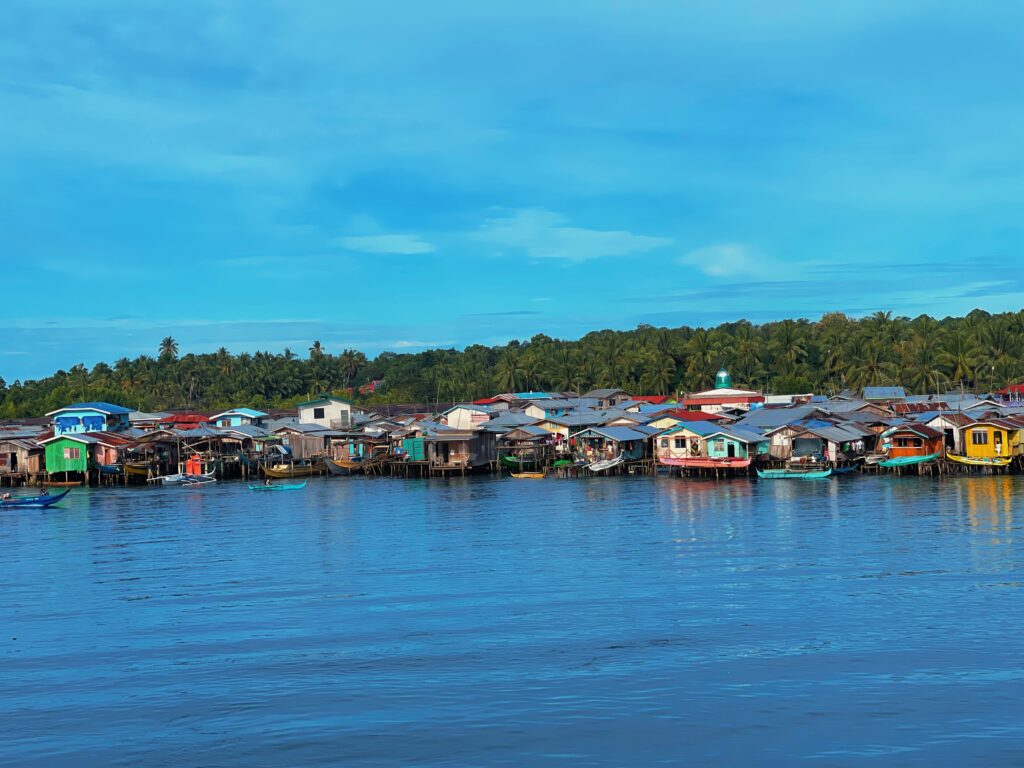 Basilan is a province located in the southern part of Mindanao and is known for its rugged natural beauty and rich cultural heritage. Despite being one of the smallest provinces in the country, Basilan is a melting pot of different ethnic groups and has a unique blend of traditional and modern lifestyles. While it has also faced security concerns in the past, the local government and tourism industry has made efforts to promote the province as a safe and attractive tourist destination.
GETTING TO BASILAN
Getting to Basilan from Manila requires a combination of air, land, and sea travel. The quickest and most convenient way to reach Basilan is by taking a direct flight from Manila to Zamboanga City, which is the nearest major city to Basilan. Philippine Airlines and Cebu Pacific operate regular flights from Manila to Zamboanga City.
From Zamboanga City, travelers can take a ferry from the port to Isabela City, the capital of Basilan. Aleson Shipping Lines, Zamboanga Ferry, and Weesam Express are just some of the shipping companies that offer regular ferry service from Zamboanga City to Isabela City. Tickets cost PHP120 (USD2.20), and the earliest trip leaves at 5:15 AM via Aleson Shipping Lines.
It's important to note that while travel to Basilan has become relatively safer in recent years, it's still advisable for tourists to exercise caution and stay updated on the latest travel advisories from the local authorities. Additionally, it is highly encouraged that you coordinate with Isabela City's Tourism office so you can be guided accordingly during your exploration of Basilan.
LET THE EXPLORATION COMMENCE
Upon arrival at Isabela de Basilan's port, a representative of their tourism office will meet you outside the pier and accompany you to their tourism office, where you'll register your details. The staff is extremely accommodating, and they'll help you out with arranging almost everything for your tour of Lampinigan Island.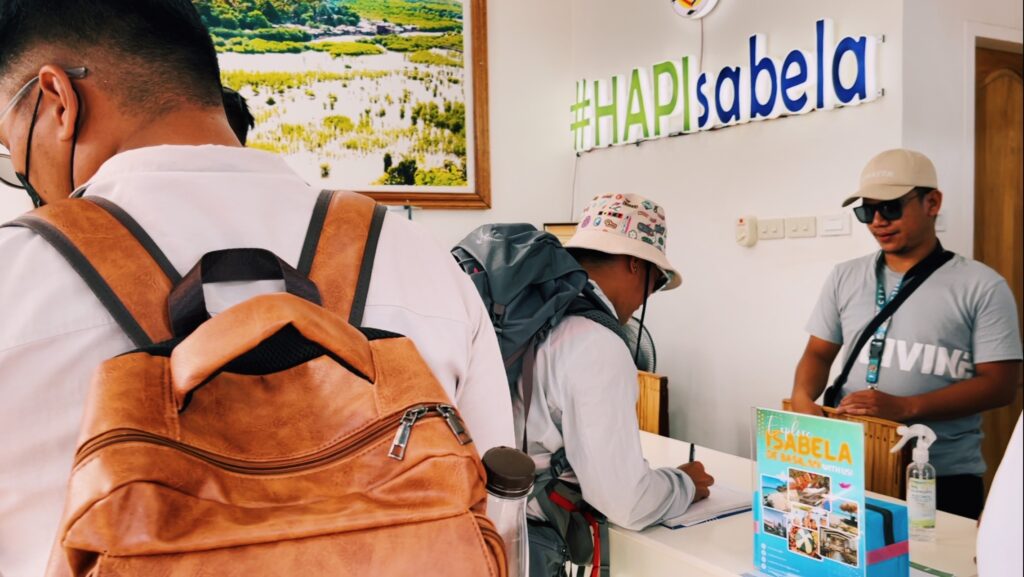 There are no restaurants on Lampinigan Island, so you'll have to bring your food. Alternatively, you may buy fresh fish at the adjacent flea market and shop for other ingredients for any other food you'd like to cook on the island. The staff was even gracious enough to volunteer to buy the food for us. They'll also arrange for a boat (costing PHP250 or USD4.50 for a max of 5 pax) to take you to the island and provide you with two accompanying police officers for a more secure trip.
LAMPINIGAN ISLAND
After a roughly 30-minute boat ride, you will reach the tropical haven that is Lampinigan Island. The island boasts crystal-clear waters, white sandy beaches, and rich marine life, making it an ideal destination for snorkeling, diving, or simply lounging on the beach (which is exactly what we chose to do).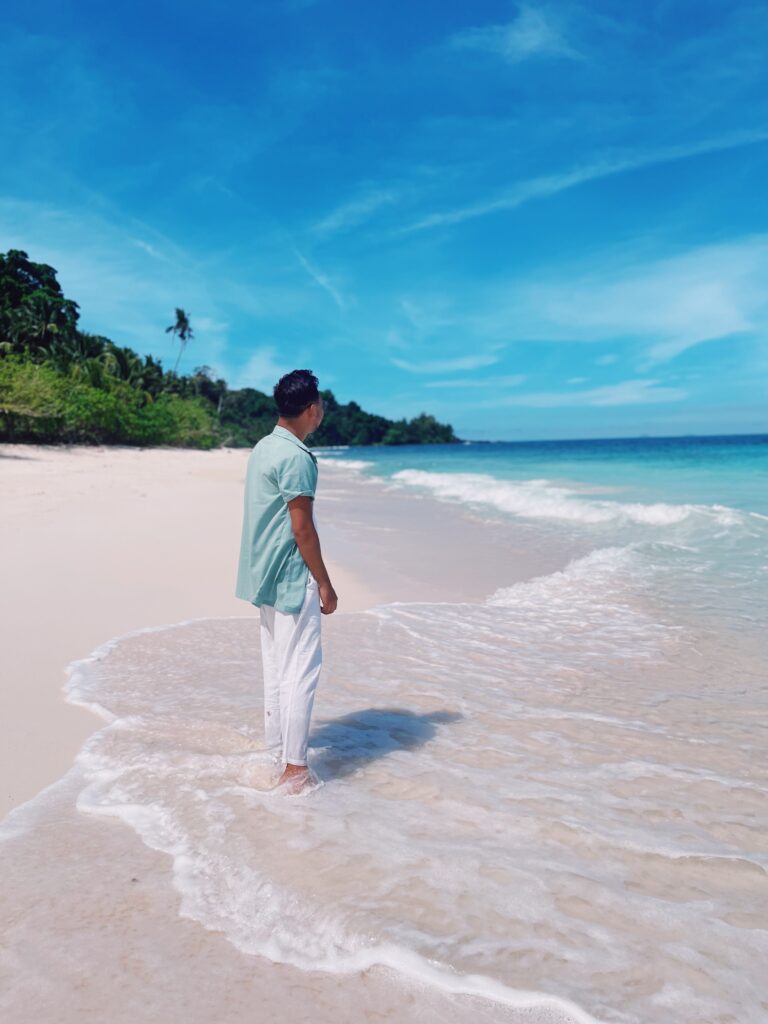 With its calm atmosphere, it's the perfect place for tourists to relax while soaking up the sun or having a quiet picnic on the beach. You can opt to set up a picnic mat under the shade of coconut trees or simply hire their open cottages for only PHP350 (USD6.40).
The island also makes for a great place to disconnect and commune with nature, as cellular reception is relatively weak, if not nonexistent. No other establishments were around, apart from the elementary school that stood next to the row of cottages we stayed at. Indeed, Lampinigan is a secluded paradise, but despite its relatively undiscovered status, Lampinigan Beach has all the hallmarks of a world-class tourist destination. From its stunning natural scenery to the warmth of its people, this island gem is a true testament to the beauty and diversity of Mindanao.
OTHER SIDE TRIPS IN ISABELA DE BASILAN
Sea conditions tend to be more rugged in the afternoon, so you'll be required to leave Lampinigan Beach at around 2 PM. This gives you enough time to explore other side trips in Isabela de Basilan before you leave for the ferry's last trip back to Zamboanga City. Here are some you may opt to visit without having to stray too far from the city center.
BLACK FALLS
This stunning waterfall gets its name from the dark, the almost black color of the water as it cascades down the rocky terrain, creating a mesmerizing sight that is a feast for the senses. And while the first destination on this itinerary is quite remote, Black Falls is quite the opposite. This majestic feat of nature is located next to the highway and only requires a very short trek to reach.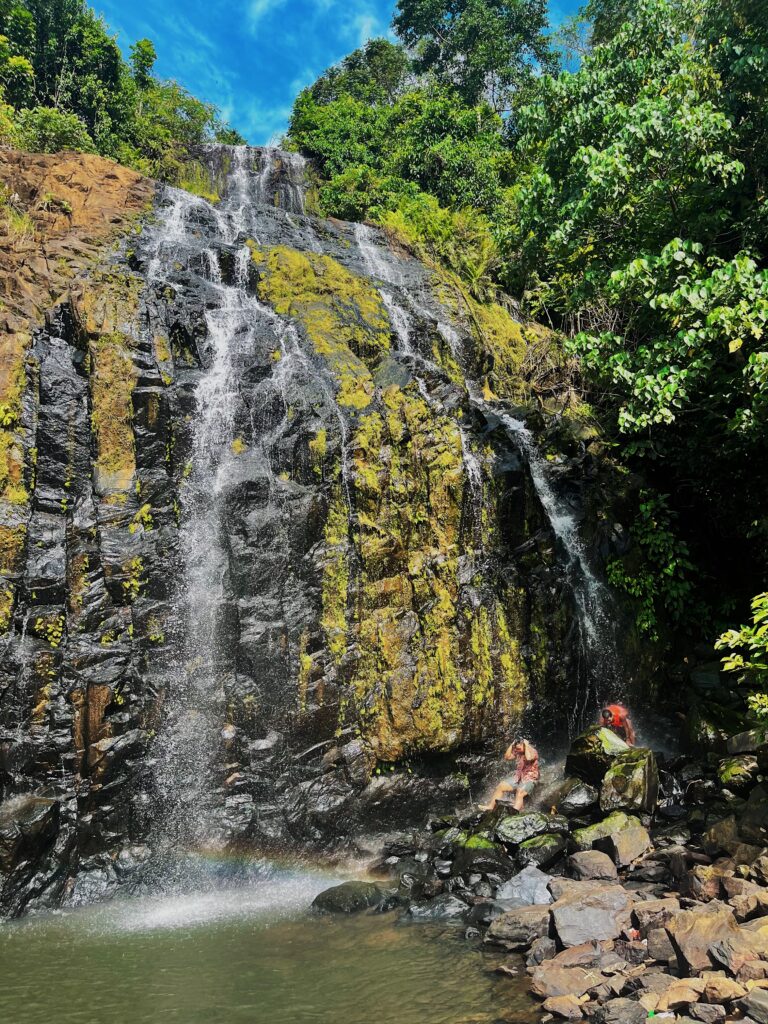 As you arrive at the falls, the sound of the cascading water and the cool mist in the air will immediately invigorate your senses. Marvel at the sight of the water flowing down the rock face and into the pool below, creating a beautiful contrast against the dark rocks. The deep, inviting water of the pool will make you want to jump in for a refreshing swim, which is just what you need after a day at the beach in Lampinigan.
MASJID MUBARAKAT
This mosque is situated in Mabarakat Village, within the Aguada Barangay of Isabela City, and is considered one of the must-see places of worship in Basilan. Its striking architecture and beautiful design are a testament to the skill and craftsmanship of the local builders.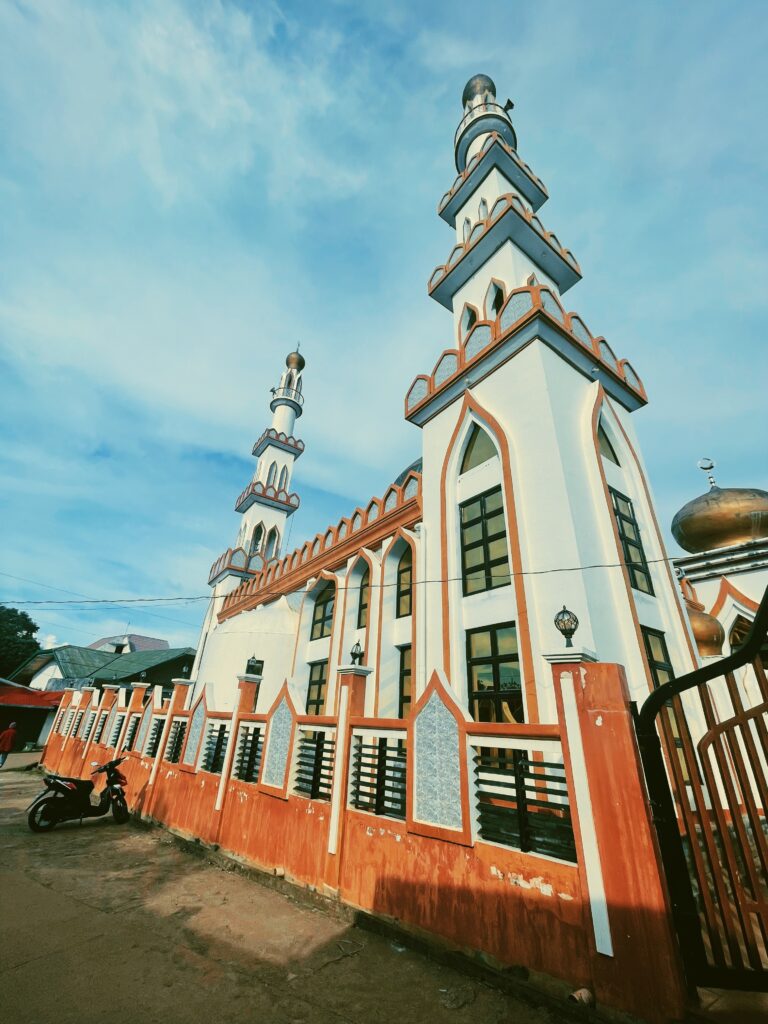 A beautiful and significant landmark in Isabela de Basilan, this masjid is a testament to the rich cultural heritage of the region. Its grandeur and beauty, combined with its importance to the local community, make it a must-visit destination for anyone interested in exploring the diverse cultural and religious traditions of Southern Philippines.
Exploring Isabela de Basilan is an adventure that no traveler should miss if they want to experience the beauty and culture of the Philippines. From the stunning Lampinigan Island and Black Falls to the majestic Masjid Mubarakat, this city is full of unique and unforgettable experiences. While Mindanao may have a reputation for being a risky destination, the region is full of natural wonders and friendly people that make it a must-visit location for any traveler. With its rich history and beautiful scenery, Isabela de Basilan is a destination that showcases the best of Mindanao's tourism offerings.