Life is a book and those who don't travel read only one page. Most of us have probably encountered this metaphor by Saint Augustine. True enough, every trip introduces us to a different page of our life's journey. But this adage could also mean quite the literal, as traveling can also lead you to places that are filled with physical pages. Yes, we're talking about bookstores and libraries. In the Philippines, there are quite a lot of them, and not just the typical ones, too.

Bibliophiles, rejoice as we take you to some of the coolest bookstores and libraries in the Philippines that would definitely have your nose in a book, or two.

SOLIDARIDAD
531 Padre Faura, Ermita, Manila, Philippines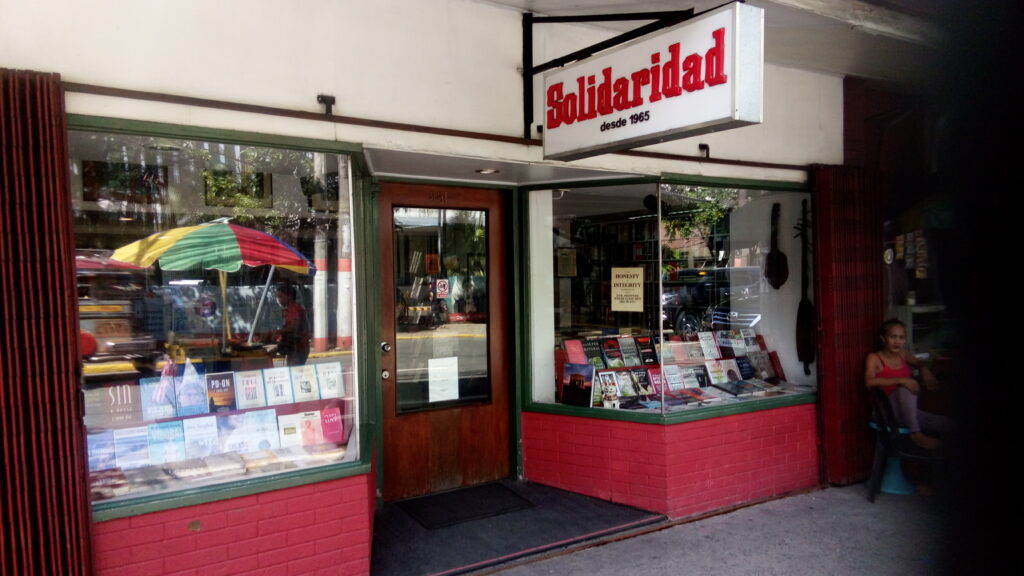 It's no secret that the capital city of Manila is one of the cradles of art, culture, and history in the Philippines, especially in the old districts of Ermita and Malate. Every nook and cranny would give you a piece of the old-world beauty that used to be Manila, and this gem of a bookstore is no exemption.

Owned by Philippine National Artist for Literature, F. Sionil Jose, Solidaridad holds the largest collection of Filipiniana works among all the libraries in the Philippines. The bookstore first opened in 1965 in the hopes of providing Filipinos with access to good books, which was lacking at that time. Since its opening half a century ago, the bookstore has maintained its humble look, giving the ultimate nostalgia you can smell and feel.

READING CLUB 2000
1454 Balagtas St. Barangay La Paz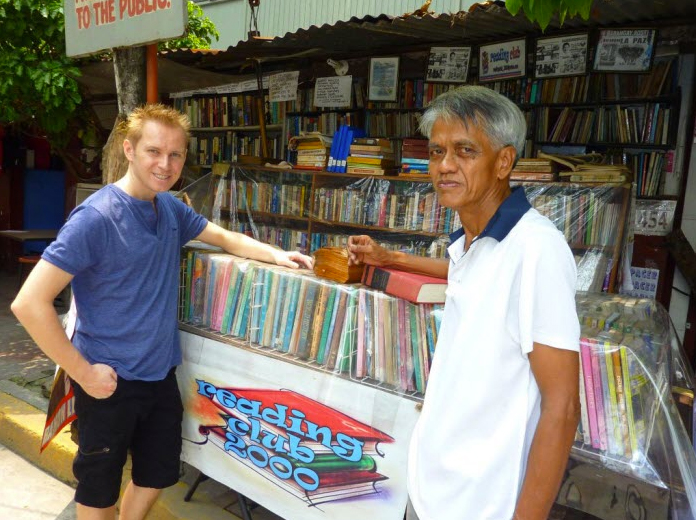 "A book should be used and reused. It has a life; it has a message." These are the words of Nanie Guanlao, owner of Reading Club 2000, a rather revolutionary library found on a street in Makati City.

While libraries in the Philippines usually come in the form of formal, academic-looking buildings, Reading Club 2000 strips that intimidating appeal and offers a more welcoming vibe for readers. Here, the rules are simple: there are no rules. You can take a book, or you can leave a book.
You can even do both if you're feeling a little extra. What once started as a passion project with only 50+ books, has now turned into a free-for-all community library that serves as a repository of learning and exploration for anyone who visits.

SAVAGE MIND
5 Peninsula St., Mayon Ave., Tinago, Naga City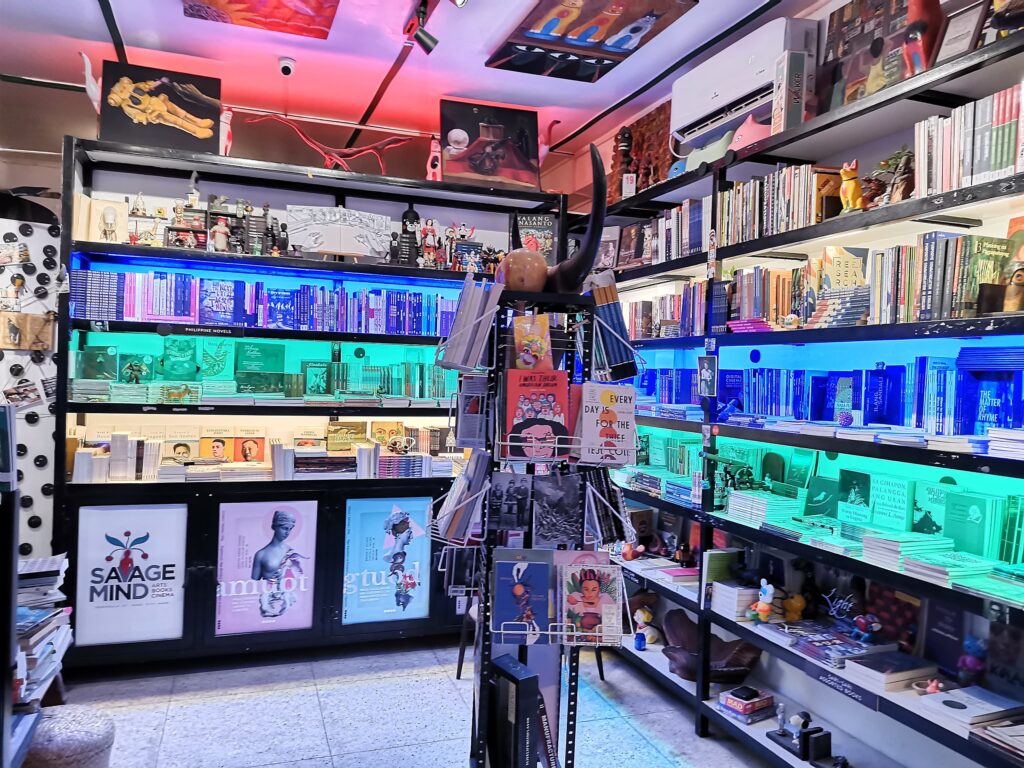 This bookstore may be located in a barangay called Tinago, but it's not hard to find. And once you find it, you'll have to brace yourself for the reading delight that it holds.

Established in 2018, Savage Mind is a product of the owner, Kristian Cordero's multiple instances of falling in love with libraries. During his years of study abroad, he was presented with experiences that allowed him to find himself "in the right place, with the right people, in the right moment."
It was built on the idea that the mind is not only the home of logic and reason but also of irrationalities and irregularities–things that Corder claimed as the source of our creative powers.
And the library is indeed a reflection of the many faces of creativity with sections that feature Bikol books, queer literature, martial law books, and even those written in Hiligaynon, Waray, Ilokano, and Cebuano.

SORSOGON STATE UNIVERSITY LIBRARY
Magsaysay St, Sorsogon City, Sorsogon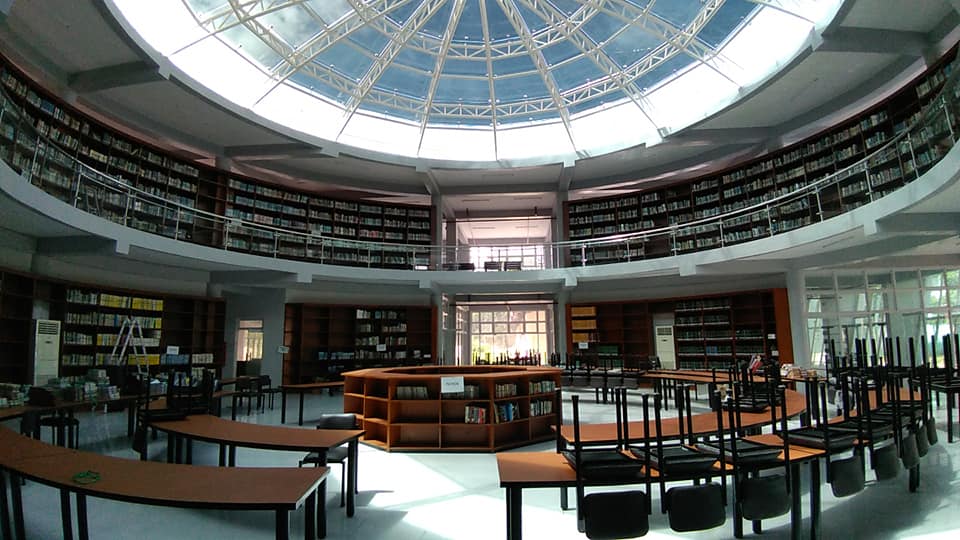 Reading meets art, style, and architecture in the newest high-end library in Sorsogon, which many have compared to those we see in Korean Dramas or even Hollywood films.

The Sorsogon State University Library was officially completed in 2019 and has since gained online popularity because of its modern look and Instagram-worthy aesthetics.
As a matter of fact, it has been featured in many news outlets and has even been used as a location for some of GMA Network's primetime shows. Showcasing two floors of shelf upon shelf upon shelf of books, the library features a circular layout with ample desk space and lots of natural light through its glass dome ceiling.
With its beautifully designed interior, it comes as no surprise that people are calling it one of the coolest libraries in the Philippines.

MT. CLOUD
1 Yangco Road, Corner Brent Rd, Baguio, 2600 Benguet

Do you know that cozy feeling of being at home snuggled up in your blanket while reading your favorite book? That's exactly the feeling you get once you enter the doors of Mt. Cloud.

Appropriately named, this bookshop is found in the country's highest major cities in terms of elevation. Mt. Cloud Bookshop originally opened in 2010 under the management of Padma and Feliz Perez, who are actually daughters of the people who own Cafe by the Ruins, another landmark destination in Baguio.
Even in you only have 24 hours to spend in Baguio, add Mt. Cloud to your itinerary. The bookstore is located in the basement of the city's oldest building, Casa Vallejo, and provides you with that distinct nostalgia of coming home after a stressful week of grinding. Its wooden interiors, coupled with the cool weather of Baguio City, make for a perfect recipe that fuels a bookworm's love for reading even more, making it one of the most beloved bookstores in the Philippines.